EDIT MAIN
Sapphire Dance Team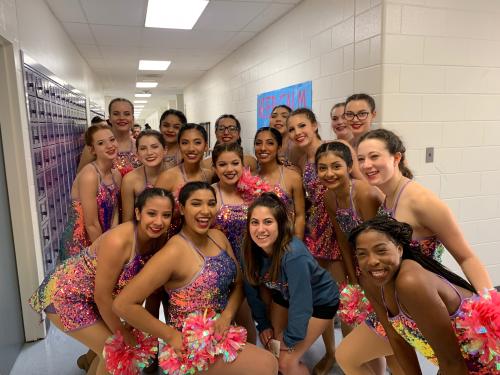 Director: Jenna Lawson
Assistant Director: Margarita Sauceda
Links:
Subscribe to our YouTube Channel by clicking here
Follow us on Twitter @NeedvilleDance
Like our Facebook Page here
---
The Sapphires Dance/Drill Team was founded in the Spring of 2015 with the first tryouts in May. There were 42 girls that tried out and the first line had 22 members for the 2015-2016 school year. The team performed at football games, basketball games, and pep rallies. They also held a minicamp and a Spring Show. The next two years they began entering competitions and continue to further their knowledge of all genres of dance while representing their school and community at the competition level.
2018-2019 Sapphires:
Senior:
Vasti Coronado-Captain
Juniors:
Belen Barron
Karla Barron
Gabby Bonilla-Manager
Melanie Fraga
Mia Rosales
Annie Rule
Sophomores:
Jackie Argueta
Joselyn Argueta
Ciara Cavazos-Lieutennant
Tesa Gustavus
Kerra Kiser
Maddy Knight
Desiree Ojeda
Alondra Vazquez
Freshmen:
Samantha Cruz
Ellye Filla
Kendall Hudson
Rosalan Rule
Congratulations to the 2019-2020 Sapphire Officers:
Captain: Ciara Cavazos
Lieutenants: Mia Rosales & Annie Rule