EDIT MAIN
Welcome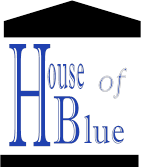 Let Us Serve You…
The House of Blue is busy training this year's Culinary Arts, Intro to Culinary Arts and Hospitality and Tourism Students
Students will be concentrating on safety and Sanitation and will earn their "Food Handler's Certificate from ServSafe before the House of Blue will open.
Culinary students will focus on recipe skills, food production and plate presentation for their upcoming role in producers of foods served in the House of Blue.
Introduction to Culinary Arts students will focus on table setting, serving, and cleaning and organizing duties so that both the Front of the house" and "back of the House" can work efficiently together during "to go and dine in-service days".
Hospitality and Tourism class will work with the details of reservations, atmosphere, and publicity of the House of Blue.
Due to COVID-19, operations will be in line with state health guidelines. We will hopefully be able to serve meals "to go" by mid-October. "Dine in" meals are suspended until further notice.
Reservations can be made individually through email by request, and electronically through an email list sent out weekly ( please ask to have your email address added if you would like to receive the weekly invitations)
pughs@needvilleisd.com
979-793-4158 ext 1322* please use email instead
713 870 5131