Is this your first child to enroll at NISD?
If this is your first student to enroll at Needville ISD you will need to create a "Skyward" account.
Click Here to create your Guardian Skyward account
Do not select this option if you already have a student enrolled at NISD.
To complete this online registration, you must have an email address you can access. If you do not have an email address, there are a number of free web-based email systems that allow you to quickly create an account.
Options include:
Do you currently have students enrolled at NISD?
If you already have a student currently enrolled and need to register a new student, follow the link below.
Once you log into family access, you can click the arrow down next to the "Home Icon" and select "New Student Enrollment"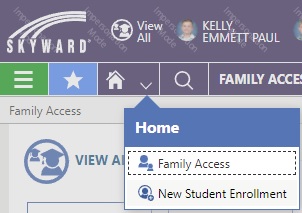 The registration experience works best from a computer.

Be sure to check your spam/junk folder for the system emails. (Yahoo seems to block the most)

Do not call the campus phones for technical support.

Please email registration@needvilleisd.com for support.
The following items are needed to enroll a child:

Withdrawal form from the previous school

Copy of last report card

Legal birth certificate

Immunization records

Proof of residence-electric bill in parent/guardian name

Student's social security card

Copy of driver's license from parent/guardian enrolling student
¿Es este su primer hijo en inscribirse en NISD?
Si este es su primer estudiante en inscribirse en Needville ISD, deberá crear una cuenta "Skyward".
Haga clic aquí para crear su cuenta Guardian Skyward
No seleccione esta opción si ya tiene un estudiante inscrito en NISD.
Para completar este registro en línea, debe tener una dirección de correo electrónico a la que pueda acceder. Si no tiene una dirección de correo electrónico, existen varios sistemas de correo electrónico gratuitos basados en la web que le permiten crear una cuenta rápidamente.
Las opciones incluyen:
¿Actualmente tiene estudiantes inscritos en NISD?
Si ya tiene un estudiante actualmente inscrito y necesita registrar un nuevo estudiante, siga el enlace a continuación.
Una vez que inicie sesión en el acceso familiar, puede hacer clic en la flecha hacia abajo junto al "Ícono de inicio" y seleccionar "Inscripción de nuevo estudiante"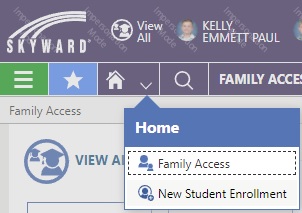 La experiencia de registro funciona mejor desde una computadora.

Asegúrese de revisar su carpeta de spam/basura para los correos electrónicos del sistema. (Yahoo parece bloquear más)

No llamar a los teléfonos del campus para soporte técnico.

Envíe un correo electrónico a registration@needvilleisd.com para obtener ayuda.