Transportation Update: NON RELATED BUS accident at the intersection of Brumbelow/Zamanek and FM 1994. Buses 11, 41 and 33 will be delayed for pick ups this morning. If you leave near this intersection, there isn't a way for our buses to get to you. Campuses will be notified of the students arriving late. Thank you.

ESL District Parent and Family Engagement Night Information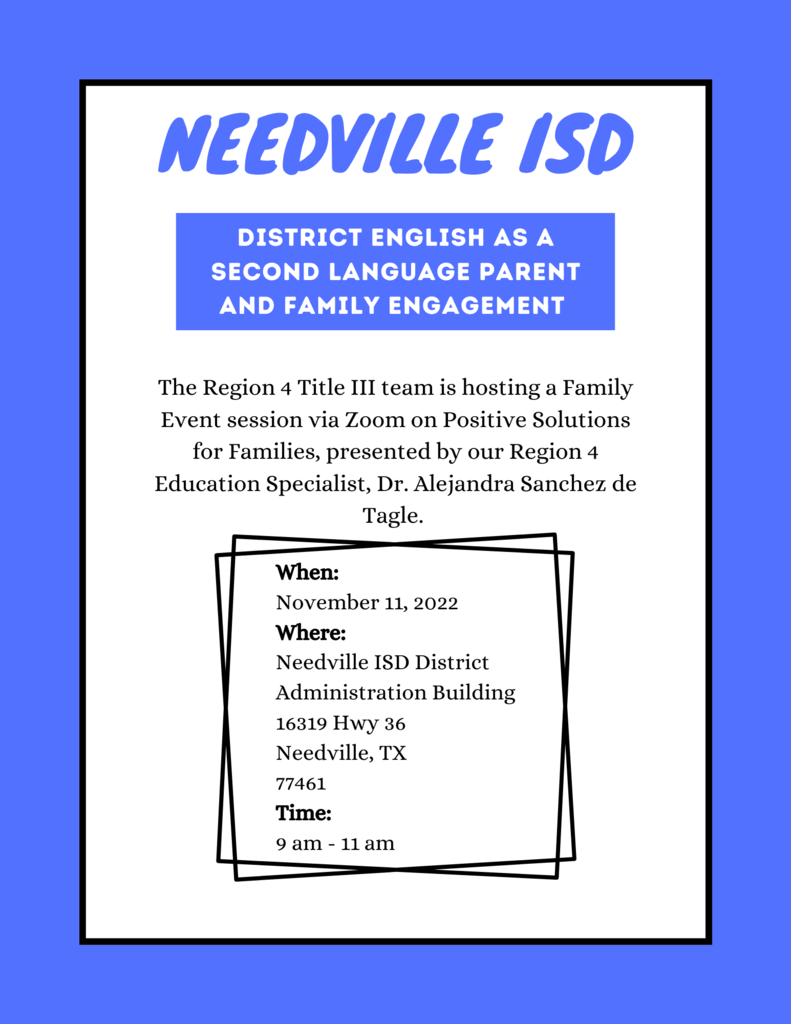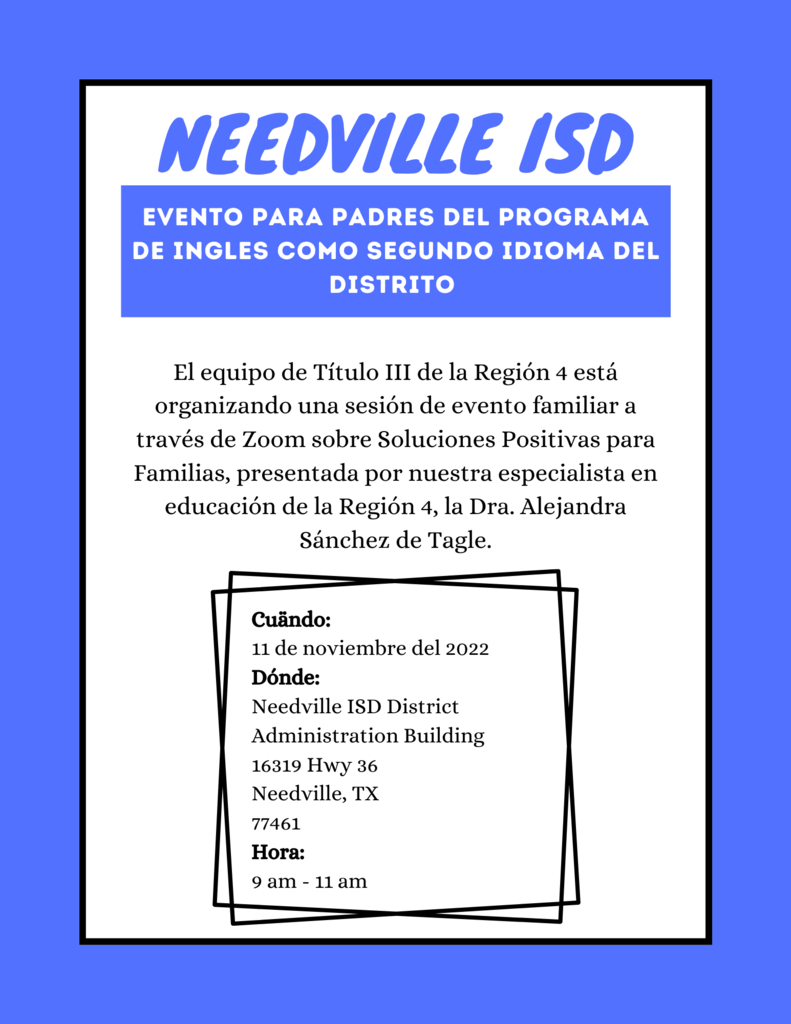 NISD Sport Update: Friday's Varsity Football game time has changed. New start time is 6:00pm.
NISD SPORT UPDATES: VOLLEYBALL is in the AREA playoffs FRIDAY night at Cuero High School at 6:00 vs Wimberley. Tickets at the gate are $3 for students and $5 for adults. Best of luck to our Lady Jays!!! FOOTBALL FRIDAY NIGHT, game will start at 6:00 at Blue Jay Stadium. Please note time change.
TIP: To get up to date messages from Needville ISD without have to log onto the main web page. Download the Needville ISD app on your phone. Available on web app stores. There will be an option on how to turn on notifications and what campus you want to hear more from. Definitely be sure to make the district page one you turn on. Hope this helps with any and all future notices.
Transportation Update: Bus 33 will be delayed this morning. We apologize for the inconvenience.
Reminder: There is NO SCHOOL for Blue Jay STUDENTS today.
BUS UPDATE 10-3 A NISD bus was in a minor accident this afternoon, no major injuries. The students have already been placed on a new bus to carry on with drop offs. Please be patient as we adjust to get our Jays home safely.
Catch our Blue Jays under the bright lights tonight at Blue Jay Stadium as we play Brazosport. Kick off is at 7:00. Tickets on sale at the gate $8 for everyone. It's going to be a beautiful night in Blue Jay Country, come out for some social fun, enjoy our band and watch our Sapphires, Twirlers and Colorguard in the stands and on the field. Don't forget when our Jays score our Cheerleaders are extra loud and proud and may have spirit wear to toss to the fans. TOUCHDOWN JAYS!
Reminder: NISD will be closed tomorrow 9/23. Have a great and safe long weekend.
Tickets for Friday Night Lights in Stafford tomorrow night can be purchased from GoFan.Co and search Stafford High School. Kick off is at 7:00. Go Jays!
Congratulations to our very own NISD School Board member, Chase Raska, who is also the Fort Bend County Fair President. The Blue Jay family all stands behind you Chase and wishes you a very safe and successful fair starting today! NISD also wants to wish all our Jays best of luck on your competitions. Let's all represent Blue Jay Nation with pride!
Teachers, just a reminder that the Needville Education Foundation Grant Applications are due back soon! Think outside the box, be creative in how to educate our Jays and send in your request! It's worth it, I promise, not only for you but for your students.
UPDATE!!! Homecoming tickets are selling like hotcakes!!! All campuses except the high school are SOLD OUT! Administration also has sold out. If you still need discounted tickets PLEASE GO TO THE HIGH SCHOOL. Tickets sold until 1:00.
IT'S HOMECOMING WEEK AT NEEDVILLE ISD!!! Football tickets go on sale today at all campuses and admin starting at 1:00 until 1:00 on Friday. $7 for adults and $5 for students and children. Make plans for Friday night as our Mighty Jays play Huffman-Hargrave at 7:00. Be sure to get to the stadium early to see who is crowned our 2022-23 Homecoming Queen. Remember at the gate all tickets are $8, so get yours early,
Can't make it to Livingston but still feed the need to watch some Blue Jay Football? Well, we have your answer! You can livestream the game in the comfort of your very own home. Enjoy!
https://www.vype.com/c/needville
Our Fighting Blue Jays are playing in Livingston tomorrow night starting at 7:00. Tickets are on sale at the gate only. $7 for adults and $5 for students. There are no pre sale tickets available at any campuses this week. Quick reminder, it is HOMECOMING next Friday for Needville. Tickets will go on sale starting Wednesday. Happy September!
PARENT NIGHT at Blue Jay Stadium tonight! Meet our Jays and their parent(s) or guardian(s) right before kick off. Game starts at 7 and gates open just after 6. Tickets at the gates are $8 for everyone. Senior citizen passes are allowed, please just show at the gate entrance. Have fun, wear blue and cheer loud for our Blue Jays, Cheerleaders, Sapphires, Band and everyone else that makes these Friday Night Lights shine brighter in Needville. Gooooo Jays!