We have a great guest speaker today for you all! Dr. Jill Siler will be at the HS Auditorium at 8:00 to present to you some great tips for the upcoming year. Bring paper and a pen, you may want to jot some of her thoughts down. Please give a BIG Blue Jay welcome to Dr. Siler.
Welcome back all teachers and staff to a new year at Needville ISD starting today!! We look forward to seeing everyone at 8:00 in the High School Auditorium. Be sure to give a warm Blue Jay welcome to our guest speaker, Tony Brigmon! He has promised some serious fun with serious results.
Tomorrow, August 4, the 2022-23 incoming Freshman are taking flight at our first ever NHS Flight School. A new and fun approach to orientation. Freshman students can be dropped off at the cafeteria at NHS at 12:30 and picked up at 3:30. Grab your boarding pass, fasten your seatbelts as our counsellors take you on an exciting adventure into life at Needville High.
Volleyball and Football Schedules are out! Mark your calendars and support our Jays! You can access the game schedules by clicking "menu" top right corner; click the document bubble, then parent resources and look for "Athletic Schedules". LET"S GO JAYS!!!
IMPORTANT INFORMATION FOR RETURNING BLUE JAYS Please remember to login to "Family Access" on the main NISD page to register your RETURNING student, if you have not done so for Fall 2022. Deadline is August 1. Thank you.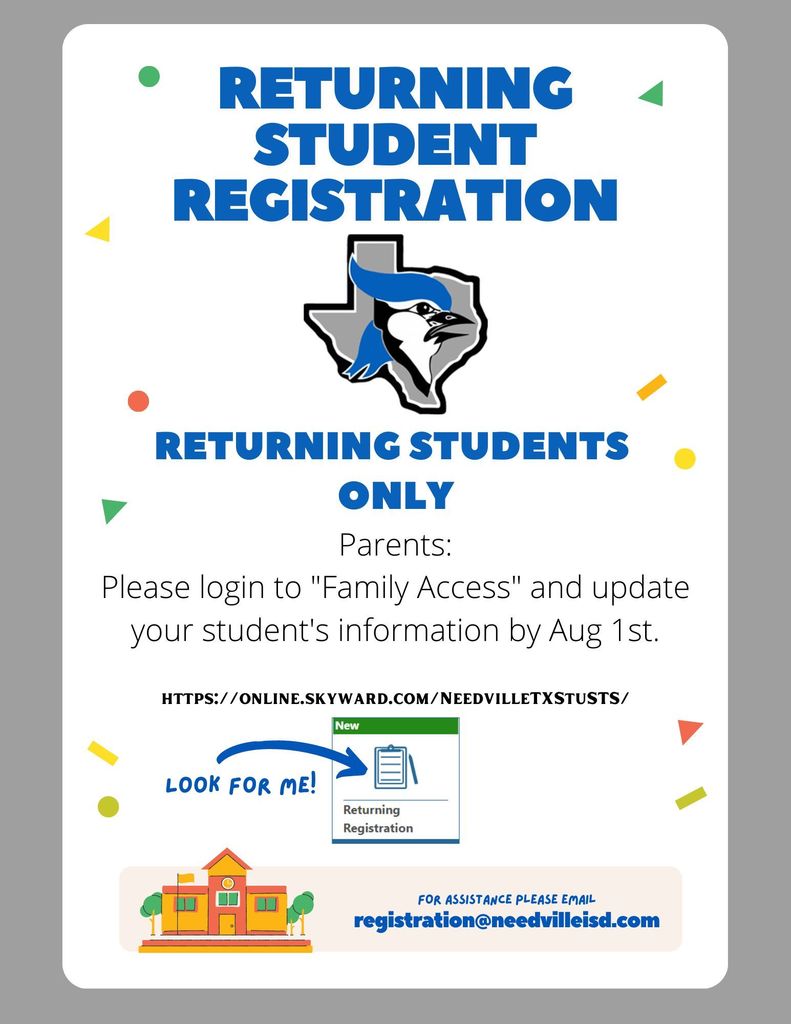 Reminder that all campuses are closed until next week, August 2. Should you have any questions about registration or uploading forms please contact your campus during that time. The Central Administration office is open Monday-Thursday from 7:30-4:00 to drop off transfer forms with regard to student registration. First day of classes for all Blue Jays is AUGUST 17. Watch this site and click on your campus under "schools" (top right corner), for upcoming important information. Gooooooo Jays!

RELEASE OF 2022 STAAR RESULTS JUN 20, 2022 The State of Texas Assessments of Academic Readiness (STAAR) test results for the 2021-2022 school year are available to view online in the State of Texas Student Assessment Portal, which can be found at Texas Assessment. You can access your child's scores online and you will also be able to view your child's entire state testing history. For questions, contact your campus principal. Student EOC results will be available on TEA's Family Portal on June 16. STAR results for grades 3-8 will be available on June 24.


Good morning Blue Jays. Buses are running on schedule this morning. Classes are also running as normal today. Our promise is to keep everyone safe.
Enjoy the long weekend Blue Jays! We are closed on Monday, 2-21-22.
As a precautionary measure, NISD campuses will be closed on Friday, February 4, 2022. Stay warm, enjoy the weekend, and see you Monday! Curtis Rhodes NISD Superintendent of Schools
Good morning Blue Jays. Classes and buses are running as normal today.
Please know that NISD is currently monitoring the upcoming weather conditions for our area. We will notify families of any closures, if necessary, as soon as we can. Continue to watch this website for any and all important updates.
It's here! The 8th Annual Blue Jean Ball!!! The Columbus Hall is where to be tonight in Needville! If you can't be here and still want to invest in our amazing teachers. There is an online auction that you will want join up until Sunday at 4:00. These items are different than what will be at the hall tonight. Have some fun and support our NISD Teachers! Auction starts at 4:00 today.
www.32auctions.com/Bluejeanball2022
.
Good morning Blue Jays. Yes, classes are as normal today. Be sure your children are dressed appropriately for the cold weather. Remember, we are strong Blue Jays, we can handle a wind from our Northern friends!!!! Stay warm and be safe, we will be back to sunny skies again soon.
The Daddy-Daughter Valentines Dance is BACK!!! Tickets are available this week at the elementary, middle school and high school campus offices. The dance will be at Creekside on February 11. $20 per couple $10 for each additional daughter $5 for mom's observation hour from 6:30-7:30 Ages 0-8th grade It's time to shine those shoes Dad and make your daughter(s) your valentine. This event is put on happily by the High School Theater Department.
How about a great reminder?? Students are off Monday, January 17 for Martin Luther King Jr. Day.
The Annual NEF Blue Jean Ball is just around the corner. On January 21, 2022 we will be live at the Columbus Club Hall in Needville, TX. Doors open at 5 and close at 11. Your $25 ticket includes a dinner from Schulzes BBQ, great auctions and dancing with music from DJ Jody Teykl. Tickets are available at all campuses as well at the administration building. NEF does have VIP tables available for you and your businesses for $500, $1000 and $2500. We are also always accepting donations for our live and silent auction items. Please contact Shelley at 979-793-4308 x1205 or 281-509-5524. All proceeds from this fundraiser go directly back to our A-Rated NISD district teachers. Come on out to Blue Country and support our amazing team.
Happy 2022 to all NISD Blue Jays! Classes start back up on Tuesday, January 4th. Teachers, we welcome you back on Monday, January 3rd. Stay safe and warm this weekend.