NEF Fundraiser is Friday, January 22nd!! This year there will be a BBQ plate drive thru! Get your tickets now!!

Thursday is College T-shirt day!

REMINDER: Spring pictures are tomorrow! All students and staff will have their pictures taken.

Friday is Show your Christmas Spirit Day! It is also Early Release!! Get ready for those awesome Christmas holidays! We hope you all have a safe and merry Christmas!

Thursday is Wear a Festive Shirt Day!

Wednesday is Wear Christmas Red Day!

Tuesday is Ugly Sweater Day! Wear an ugly sweater if you have one!

Monday is Elf Day! Who can be the cutest elf?

Friday is Holiday headwear day!

Thursday is Favorite Flannel Day! Wear your favorite flannel shirt!

Wednesday is College T-shirt day!

Tuesday is Grinch Day! Wear your green or grinch items!

NES is collecting canned goods for the Needville Ministerial Alliance Food Pantry at Immanuel Evangelical Church. Our tree is looking great with donations and boxes are being filled. Thank you Lil' Jay families for your donations! The last collection day is this Tuesday, December 8. Please only send what your child can carry into the school (anything more can go directly to IEC).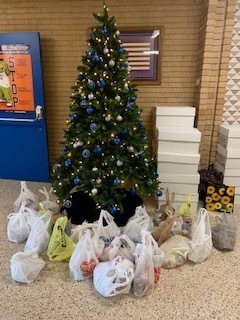 Monday is Christmas PJ Day! Wear your Christmas pajamas!!

Friday is Jingle All the Way! Wear your bells today!

Thursday is Don't sweat the Holidays! Wear your warm-ups or workout gear.

Wednesday is Candy Cane Day!! Wear red and white or red/white stripes!

Tomorrow is Tinsel Tuesday! Wear your sparkle and glitter! We have a lot of Christmas fun planned before the holidays!


Happy Veteran's Day! Since we can't be together today, Miss Tibe and NES have put together a video to honor those who have served. We would all like to thank our veterans for your sacrifices for our freedom!
https://youtu.be/2ZlXLo9ZJ3c