Tuesday is Ugly Sweater Day! Wear an ugly sweater if you have one!

Monday is Elf Day! Who can be the cutest elf?

Friday is Holiday headwear day!

Thursday is Favorite Flannel Day! Wear your favorite flannel shirt!

Wednesday is College T-shirt day!

Tuesday is Grinch Day! Wear your green or grinch items!

NES is collecting canned goods for the Needville Ministerial Alliance Food Pantry at Immanuel Evangelical Church. Our tree is looking great with donations and boxes are being filled. Thank you Lil' Jay families for your donations! The last collection day is this Tuesday, December 8. Please only send what your child can carry into the school (anything more can go directly to IEC).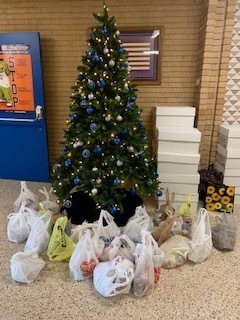 Monday is Christmas PJ Day! Wear your Christmas pajamas!!

Friday is Jingle All the Way! Wear your bells today!

Thursday is Don't sweat the Holidays! Wear your warm-ups or workout gear.

Wednesday is Candy Cane Day!! Wear red and white or red/white stripes!

Tomorrow is Tinsel Tuesday! Wear your sparkle and glitter! We have a lot of Christmas fun planned before the holidays!


Happy Veteran's Day! Since we can't be together today, Miss Tibe and NES have put together a video to honor those who have served. We would all like to thank our veterans for your sacrifices for our freedom!
https://youtu.be/2ZlXLo9ZJ3c


This week is Red Ribbon Week at NES! Today is "Don't get hooked on drugs!"...wear a fishing shirt. Tuesday is "Drug free is groovy!"...wear tie dye or 70's theme. Wednesday is "Be Happy, Be Brave, Be Drug Free!"...wear all the red you can. Thursday is "Wild about being Drug Free!"...wear camo or animal print. Friday is "Drugs are Scary!"...wear your costume or black.



In an abundance of caution with hurricane Laura and mobility issues, all Needville ISD campuses and facilities will be CLOSED Wednesday, August 26 – Friday, August 28. There will be no on-campus or virtual classes on these days. All extracurricular activities are also canceled through August 28th. We are closely monitoring the weather with Fort Bend County officials and we will inform the community if there are any further changes. Be safe and thank you for a great two days of school thus far. See everyone Monday, August 31st!
Day 2 at the elementary has started smoothly! We had all car riders dropped off and in the building by 8:00! Lil' Jays walked in and knew where to go with little help needed! Thank you parents for your patience and for working with us!
A HUGE thank you to our elementary parents!!! You prepared your children so well for the first day! Students came in with their masks, name tags, and ready to go. We started our school day at 8:20!! That is awesome for the first day! We thank you for your patience in the car rider line and continue to ask for your patience especially this week.