Monday is a Student Holiday and Staff Development for Teachers



NISD Food Drive

Winter Wonderland Week -please see attached flyer

Due to a computer programming error Progress Reports will not be issued until Tuesday, December 1, 2020.

NMS is partnering with the Immanuel Evangelical Church which houses the Needville Food Bank to provide a holiday meal to District families in need this holiday season. Please consider donating non-perishable food items. Please read the flyer.

Generation Texas Week is Nov. 16th-20th please see the attached flyer for the themes each day.



Please read the following letter and updates to the Needville Middle School drop off and pick up locations beginning on Monday, October 26th.

Please call the front office by Friday, Oct. 23rd to let us know if your student will be returning to school or remain virtual for the 3rd Six Weeks. All students failing will be required to return to face to face instruction on Monday, November 9th. Also any students who want to return to face to face instruction will start on Monday, Nov. 9th. Please call: 979-793-3027 by Friday, Oct. 23rd at Noon.

Red Ribbon Week is Oct. 26th-30th

Homework Help is back! Check out the flyer for the times and locations.



You are invited to the Needville Middle School Title 1 Meeting! Date: Tuesday, October 6, 2020 Time: 8:30 am and 12:00pm(noon)- Choose on that works for you Zoom Meeting ID: 782 7693 7732 Password: NMS Agenda: -Policy and Compact -Parent and Family Engagement -Curriculum -Academic Assessments -Teacher Qualifications -Contact Information -Program Evaluation -Survey

Fall Portrait Make-Up Day is scheduled for Tuesday, October 13th. Students who missed the original picture day or need re-takes may do so on October 13th. Virtual students wishing to participate will need to begin lining up for pictures at 8:15 AM in the bus lane beside the cafeteria. Please remain in the vehicle. A staff member will escort the student into the building and then escort them back to the vehicle after the picture is taken. Virtual students may get their picture taken from 8:15-10:00 AM. If you have any questions, please call the school at 979-793-3027.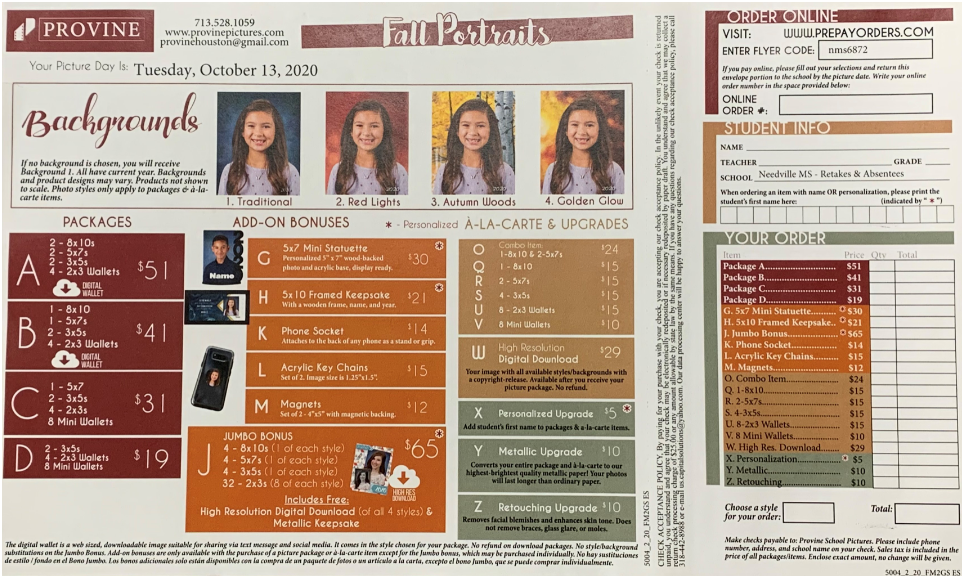 Reminder the deadline for Virtual Learners to come back to school in person for the 2nd Six Weeks is Thursday, Sept. 24th. Parents must call and notify the front office of this change by Thursday, Sept. 24th by 3:00pm. Students will begin in person classes on Thurs., October 1st.

This is the information shared in the Virtual G.T. Parent Meeting. A huge thank you to the parents that were able to attend. If you have any questions, please call Mr. Valentine, Mrs. Dowell, or Mrs. Mikulek at 979-793-3027.